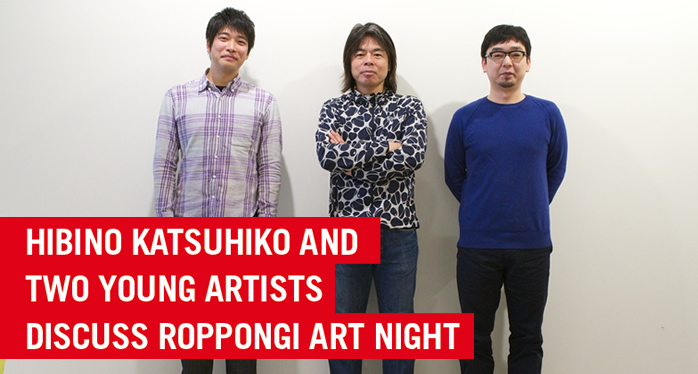 Hibino Katsuhiko and two young artists discuss Roppongi Art Night
Shibata Yusuke The attraction of Roppongi Art Night for me is to have my work seen by so many people right in the very center of the city. Last time over 700,000 attended. Unthinkable for any solo show of mine, and that's just in one day. I wouldn't have had it in me otherwise, but I wanted to challenge the potential for my work within an urban context.
Hibino Katsuhiko You're doing the dry cleaners, right?
SY We took a preview dry-run tour of the Roppongi area, and I picked it right away (laughs).
HK I was hoping someone would want to exhibit at that dry cleaners.
SY They've apparently been in business there since right after WWII, but anyway it's a charming place. Looking through the window at the employees hard at work surrounded by all these analog machines and clean white shirts, it's really beautiful. Thinking historically about the Roppongi area, the first thing that occurred to me was to raise the fascination of the place to a climax. My key concept is Roppongi = disco, the idea being to convert that space into a discotheque, smoke pumping out of the building and sexy models dancing with the cleaning machines running the whole time.
HK That's your image of Roppongi.
SY Yeah. I need to fill in some details, but I can tell you the place is going to be maximum cool!
HK And you're using that newspaper office, right?
Sagiyama Keisuke I chose the Suisan-Keizai Daily News Building on Imoaraizaka Slope. There's even a rotary press in the building, and they layout and print right here in Roppongi. That in itself is just amazing. So as much as possible I want to use the newspaper as an element in the work. Projecting onto a screen of newspapers, making oversize foldedpaper objects out of newspaper. It made me aware of other newspaper companies around town. And considering how often my work relates to water, a newspaper dedicated to the fishing industry seems absolutely perfect.
HK And what will the work be like?
SK I'm making a road movie that follows the Abukuma River flowing from Fukushima to Miyagi. I hadn't filmed up in Tohoku since the quake, but thinking about the direction of this Art Night and the venue and my own visual style it seems like a natural subject.
HK Any thoughts about Roppongi Art Night?
SK Well of course the number of visitors is a big attraction for me too. That and the fact that it's an ephemeral one-night event. All these people gathering in Roppongi and disappearing just like that adds a certain energy-threshold quality. Most of my work uses light imagery, so the nightfall-todaybreak setting is also perfect (laughs).
HK I want you both to draw out the strengths of your chosen sites to the fullest. Which is precisely what I most want the Art Fune to do. As art trends go, it's important to be appreciated for working in situ outside a "white cube" gallery space. By working together with companies like the cleaners and newspaper, art serves to unearth hidden things about the town. I've done my share of street art since the '80s, and now at long last it's gained recognition as a legitimate field of artistic expression.
Sagiyama Keisuke
Born 1977.
Studied documentary film, photography and animation at the Faculty of Imaging Arts and Sciences, Musashino Art University. Based in Tokyo, he works primarily in film installation, showing both in Japan and abroad. Works include the series B.V. (2005-2007), Flickering Memory Bank (2009) and The Reflecting Tree Diagram (2011). He currently teaches at Asagaya College of Art and Design.
Shibata Yusuke
Born 1980 in Fukuoka.
Completed postgraduate studies at Musashino Art University in 2007, then studied in Canada under the 2011 Japanese Agency for Cultural Affairs Overseas Study Program for Emerging Artists. Has shown his illusionist intervention installations combining photography, video and sculptural objects both here and abroad. Solo shows include "Supposed Beat," Art Center Ongoing, Kichijoji (2010), "Monotone Voice,"Latitude 53, Edmonton (2012), "How To, g" -FAL+FAL, Kodaira (2012). Currently represented by Galeria Inmigrante, Buenos Aires.