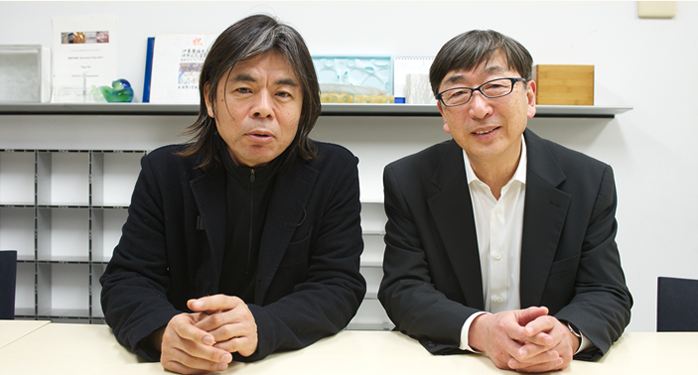 Roppongi Art Night as an engine of change

Time for Tokyo to learn from the provinces
Hibino You're involved in regional efforts in Imabari and Rikuzentakata, what's your take, not just on this Roppongi event, but on the role urban art in general can play? Outlying egions have become increasingly art conscious these past twenty years, I think there are things Roppongi Art Night can "re-import" back to Tokyo.
Ito I heard you made charcoal in Rikuzentakata and brought it down here. Last year I saw the Kenka Tanabata "boat fight" festival there. This is a town where everything had been washed away the first time I visited, but I heard they still held their festival. Then last year, when I went and saw them parading this colorful float along the same course wending through the wasteland where the town had been, I could really feel how the festival was passing on the memory of the lost town. They say everywhere in the disaster areas they hold festivals in their leveled towns. Tokyo as a whole didn't have big art festivals like that, so I guess this will give Roppongi Art Night such "re-importance," especially for young people.
H Lately I notice kids go cherry blossom viewing. When I was a student, hanami was something old folks did, but now young people seem to be actively tuning in to nature and tradition.
I The other day I went to the exhibition "MINKA, Japanese Traditional Houses: Yukio Futagawa and the Origins of His Architectural Photography, 1955″ and the gallery was full of young people. It's something new for them. The provinces are alive and well now, it's their time to create. A total reversal is beginning. So I think bringing that genki spirit in from the countryside to Roppongi is very timely.
H Especially because Art Night is just one short night, we wanted a theme for people to consciously focus on the time passing moment by moment. Like with my Koyomi no Yobune "calendar lantern boats," which you saw at year-end on the Nagara River, for me rivers and boats are symbolic of time passing and flowing by. So I wanted to try parading them around Roppongi as icons on Art Night. What image do boats conjure up for you? Not being a shipwright who actually builds boats…
I I grew up by Lake Suwa and used to go motorboating all the time when I was a boy. I can still remember having an old fisherman take out his boat to go look for a boat that had drifted off. In 1995, I designed the Shimosuwa Municipal Museum, and since I use many curves in my architecture, I was thinking a lot about boats. Buildings and boats are very similar. Buckminster Fuller said boats were prototypes for buildings. I also like the movement and flow of boats as keywords. I'm always wanting to create architecture that flows like air or water.
H The "Trip" Art Fune play most significantly on the theme of movement, which of course can be taken in different ways by different people. What's the boat by you, photographer Naoya Hatakeyama and the Home-for-All team going to be like?
I First of all, I must say I was surprised when you gave us the brief about boats to be pulled around (laughs). I thought Art Night was already supposed to be an excursion around to different museums! But then I got it, the idea of boats circling a charcoal-fire beacon, you really did mean to make festival floats. So we took a hint from Rikuzentakata's Kenka Tanabata "boat fight" festival. At first we were talking about using cryptomeria trees killed by the tsunami to make a boat over 10m tall, but that would have been impossible to haul around…
H In Rikuzentakata do they actually haul such heavy floats?
I They tie logs to the floats and go around bashing each other. They do it in town and in the sea. Last year, I saw a huge land float nearly 7m tall with bright red decorations, but they say sea floats can go taller than 10 meters. We're using bamboo and making our boat a little smaller. It will have a few upright stalks of bamboo hung with decorations, like a real tanabata float.
Home-for-All project
Architects Ito Toyo, Yamamoto Riken, Naito Hiroshi, Kuma Kengo, Sejima Kazuyo and others collaborated on designing community "living rooms" for those left homeless in the wake of the Tohoku earthquake. Beyond mere cut-and-dry infrastructural aid, the project embraces a more comforting humanistic approach, with such touches as shared meals and mini-concerts. The two-storey 30m2 "home" completed in Nov 2012 at Rikuzentakata includes nineteen posts of saltwater-damaged cryptomeria.
Designing movement and flow
H Speaking for Gifu, where I grew up, I think the Gifu Media Cosmos library complex you're now working on will be major boon to the city for the next 50 years.
I Construction begins just before summer, and we expect it to be completed in two years. The wave form wooden roof construction is sure to stir up lots of interest. I believe the fully integrated environmental design and natural energy system make it the architecture of the future.
H Usually, an architect's work ends with the construction plans, but I admire how you keep the design intent open-ended to meet changes not only in the building but also the organization itself. Allowing for people to move and flow. But to return to Roppongi, typically, the area within which visitors move about is rather limited. The overwhelming pattern is they go to their museum destination and go home by metro, but I wanted to create something more fluid for Art Night . . .
The energy goes beyond simply going around to view museum exhibits.
I The stacks at the Media Cosmos are arranged in a spiral interspersed here and there with reading spaces, the concept being a whirlpool flowing outward. In Roppongi, with the museums as ports of call, we'll have several major foci interconnected by boats into one big network that hundreds of thousands can experience simultaneously. I often walk my dog there on weekend mornings when there are few people out and about, and I never tire of "networking" the green corridors and slopes. This time around, however, it won't be daylight. We're turning Roppongi into a network by means of one-night installations. Your defining that as art interests me, the energy goes beyond simply going around to view museum exhibits.
H We've also planned lantern parades to make people's movements more visible. Adding in the occasional boat movements on top of the crowd flow – a real flowing, moving "trip."
I I look forward to it. These days in architecture as well, we're finding more meaning in the process – what programs to incorporate, how to design to involve more people – than in the finished building. Most architects are still fixating on the resultant architectural expression, but that has to change. I believe Rikuzentakata and all the other disaster areas offer us a prime opportunity to rethink the future of architecture.
Text: Oochi Asuka
Ito Toyo
Architect. Born 1941 in Seoul. After graduating in architecture from the Faculty of Engineering, University of Tokyo, worked under Kikutake Kiyonori before going independent in 1971. After primarily residential projects, designed the Yokohama Tower of Winds (1986), Sendai Mediatheque (2001). Mikimoto Ginza 2 (2005), Tama Art University Library – Hachioji Campus (2007) and The Main Stadium for the World Games 2009, in Kaohsiung (2009). Opened the Toyo Ito Museum of Architecture, Imabari in 2011. Current works-in-progress include the Gifu Media Cosmos.
www.toyo-ito.co.jp.