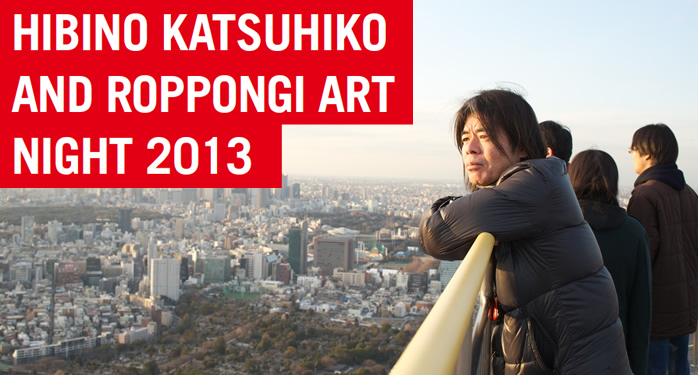 Roppongi Art Night 2013 Statement
TRIP→
Today is until you sleep,
Wake up and it's tomorrow
Night is everything between
Witness it transform!
Imagination, a child of the dark
Outreaches the hours and minutes
So too does art born of darkness
Sail beyond the straits of time
On this Roppongi Art Night
Artists' boats call at Roppongi ports
Laden with imagined treasures
Come sail around with us
For tonight we art ists share
Our precious cargo of vision
Roppongi Art Night 2013 Artistic Director Hibino Katsuhiko
Born 1958 in Gifu. Postgraduate studies at Tokyo University of the Arts. Acclaimed in the 1980s for his timely multidisciplinary style. Exhibited at the 1986 Sydney Biennale and 1995 Venice Biennale. Solo shows include "Hibino Expo" at Art Tower Mito (2005), "Hibino DNA And" (2006) at the Museum of Fine Arts, Gifu, "Home and Away System" (2007) at the 21st Century Museum of Contemporary Art, Kanazawa and "Higo by Hibino" (2007) at the Contemporary Art Museum, Kumamoto. He also engages in projects with local communities: his Asatte Asagao Project launched at the 2003 Echigo-Tsumari Art Triennial used morning glory seeds to connect people under the motto "A seed is a ship," and led to building boats in Kanazawa, Yokohama, Kagoshima, Tanegashima and an on-going three-year shipbuilding project in Maizuru from 2010. He will launch a Sea Floor Exploration Art Museum project at the upcoming Setouchi International Art Festival. He helped foster sport-art interaction by sending Match Flags he and fellow supporters created to the 2010 FIFA World Cup South Africa, one of his many outreach efforts to vitalize society by engaging local people in art production. Hibino currently teaches at Tokyo University of the Arts, serves as director of the Japan Football Association, and has started a Heart Mark Viewing to help provide Tohoku Earthquake victims a chance to rebuild their lives by sharing in the joy of making things with their own hands.
Curator Kiyomiya Ryoichi
Born in 1974, Tokyo.
A founder of the record label Vinylsoyuz (2001). In 2006, he produced Boycott Rhythm Machine II Versus, a documentary film interweaving improvisation by cutting-edge musicians in Japan and interview footage. Since then he has held live events of the same title at National Museum of Nature and Science, Tokyo and Korakuen Hall. Other recent titles he has produced include Tadashii Sotaiseiriron, Open Reel Ensemble, and The Portrait Of Suga Dairo 2. In 2010, he launched Hokusai Ongaku Haku, a ongoing community music event in his hometown of Ryogoku. He has also served as the director of "Tokyo Artpoint Project / Downtown Senju – Connecting Through Sound Art" since 2012.

Photo: Mori Kousuke
Curator Ogawa Nozomu
Born 1976 in Tokyo.
Director of Art Center Ongoing. Graduated from Musashino Art University in 2001; MA from the Graduate School of Interdisciplinary Information Studies, The University of Tokyo. Staged large-scale exhibitions every year from 2002 to 2006, building a unique network of artists through public submissions. Base on this network, he launched Art Center Ongoing, an art complex in Kichijoji in 2008. He also serves as Chief Director of TERATOTERA, an art project involved in the programs deployed mainly in the area between JR Koenji station and Kokubunji station.

Photo: Hosokawa Yoko
Urban influences, timely reflections: Roppongi's own art celebration
―What has been your role in Roppongi Art Night 2013?
Hibino Katsuhiko: It's a new position. Roppongi Art Night has never had an artistic director before. My role is to organize the Roppongi Art Night events as a comprehensive project and make it an artwork in itself.
―What are you trying to do this Roppongi Art Night?
People all over Japan know the name Roppongi, which they identified with the image of a bustling city center, the Defense Agency, the nightclub scene, but these last ten years or so have seen the building of Roppongi Hills with the Mori Art Museum, The National Art Center, Tokyo, and then Tokyo Midtown with Suntory Museum of Art. Three major art museums plus the design museum 21_21 Desi gn Sight amounted to total makeover, a whole new Roppongi image that led to the launch of Roppongi Art Night. I myself lived in Roppongi at one point and have witnessed the changes first-hand. Having participated as an artist from the first Roppongi Art Night, when the Tohoku Earthquake intervened, it got me thinking about the role art and local "culture-casting" can play. So in keeping with the times, I think the big aim this time around is for the whole of Tokyo, for Roppongi to broadcast its culture message through art.
Recently, art has been splitting in two directions: one way presumes "white cube" museums will show the same exhibitions under the same conditions worldwide, art that remains unaffected by time and place; the other way is site-specific art, where places exert a positive pull on the works and each different encounter becomes important, the exact opposite to what museums try to do. This latter direction has really come to the fore these past twenty years. In Japan, for instance, there's the Echigo-Tsumari rt Field that makes use of the terraced rice fields in Niigata, or the Setouchi International Art Festival held in and around the islands of the Inland Sea. Artists reside in situ, learn the lay of the land, so to speak, and create works that draw upon the strengths of the site. And if others can use natural locations, mountains and sea, well then we can use Tokyo city center. That's the idea for this Roppongi Art Night, to bring out the strengths of the place and evolve from there.
The beauty of art is how it can change people's values
―This time you've set forth the theme "Trip→witness today's transformation into tomorrow."
The biggest attraction of art is how it can change people's values. A mere slip of paper painted with lines and colors can send a shock through something inside us. A lump of clay worked into a shape can transport us to a different time zone.
This year's theme says it all: "Trip→witness today's transformation into tomorrow." Day after day, all of us are tripping on the inescapable passage of nightfall into night into the next day. What is this interval called night where today becomes tomorrow? A brief black blank before dawn, a long sleepless rumination in bed, a dark drift back and forth in time "What's going to happen a year from now?" or "Ah yes, five years ago that happened…" Whatever, inevitably sunrise comes, reality returns and, "Hey, got to get to work," it's out the door. It's that repetition.
Sharing the fleeting of time in a single night through art
For that one night, however, I wanted to create a time zone for imagination unrestricted by time, where art transcends time. It seems to me that night and art share certain characteristics. Roppongi Art Night is just one night out of the whole year, time you'd normally spend dreaming under the covers in your own bed, but what if instead Art Night found people all in one big bed telling each other their dreams? What if time were set adrift to go whichever ay? That's my thinking behind this theme. Whatever, come 5:39am the new day will dawn exactly as predicted in the weather eport, but just maybe in that moment they'll sense the time spent "adrift in time" has changed their values. That what I had in mind with the catchphrase "Trip→witness today's transformation into tomorrow."
Trip → project
A beacon burning Tohoku charcoal lights the way and warms hearts
Hibino Katsuhiko's monumental beacon lights up the Roppongi Hills Arena, a landmark for Roppongi Art Night 2013. Now and then glowing sparks sputter down from the cupola inside the glass-sided tower, symbolizing the awesome and terrible power of the earth. The fuel for the fire is charcoal made of cryptomeria trees killed by tsunami saltwater in the 2011 Tohoku Earthquake, gathered and kilned in Rikuzentakata, Iwate. Burning evening-till-dawn throughout Roppongi Art Night 2013, the beacon illuminates the passing hours today-to-tomorrow, warming hearts and stirring souls.
Charcoal brought from Tohokuto light a noble lamp in the darkness
―Was this your intention in choosing beacon, boat and port motifs for Roppongi Art Night 2013?
As with last year's Art Night, this year focuses on a quake-related theme. It's a very important message that needs doing. Thinking about Art Night and how people gather around a lamp to talk, the idea of lighting a noble lamp in the darkness suggested building a lighthouse, a beacon that would burn with a light from Tohoku. So I talked with Ito Toyo and we arrived at a "Roppongi lamp" lit with charcoal made from saltwater-damaged trees. Wouldn't it be great if people could gather under that light and be reminded about "the time they went to Tohoku"? I want this year's Art Night to give people a real sense of "being here now but thinking about Tohoku as surely as today becomes tomorrow." I want them to experience Roppongi Art Night as a single work of art.
Mobility has helped humanity evolve hence the boat transport motif
―Please tell us your thinking behind the "Art Fune" that crisscross the beacon-lit event space.
Taking a hint from the overall "Trip" theme, the idea of human mobility and how we've evolved by moving not just forward but traveling in all directions, I realize that some of my own values have been shaped by going elsewhere, meeting strangers and coming in contact with different cultures. I think "changing places" is very important. I've often used boats as means of transport as a motif in my own works. Previously I made twelve boats in Gifu, which I'm offering to participating artists to play around with, decorate or use as stages for performance. These are the "Art Fune."
―What are you looking for in these Art Fune?
I thought it would be fun to have two artists on one boat, so I talked it over with the curatorial team and paired up some interesting combinations. Also, we chose artists working in time-based expressions.
Hanging out together in Roppongi, A night to share with artists
―This many artists gathering in Roppongi is bound to raise the excitement level. What's the best way for us to enjoy this special night together?
The Art Fune "dock" at three main spots, where roving guides conduct you to what's happening. We also got various local eateries to open Rokuhonmoku Yorakue foodstalls where you can meet artists. Art Night March 23-24 will still be cold, so when you want something warm while going round artviewing, there are drinking spots where you can drop in and hear artists talk about their travels before heading out to see more performances. You can enjoy any number of wanderings within a single night.
ART FUNE (BOAT ) PROJECT
Giant art FUNE ferry you through the city night
Throughout the event, giant art fune cruise the streets of Roppongi. Based on the lantern boats that Hibino Katsuhiko and local citizens created in 2012 to celebrate the Gifu National Sports Festival, glowing "Art Fune" decorated by invited artists extend visitors an art-inmotion welcome to nighttime Roppongi.
Art Night highlights this Tokyo locale
―Seems like there'll be more fun all over the entire Roppongi area than in previous years.
Just so movement doesn't lag between the three spots, we've prepared "Art Port" outdoor installations, and we have participants carry lanterns to create a festive parade atmosphere. Just walking around, you'll see a totally different town than how it looks by daytime.
—Is Tokyo an easy place for artists to work and create?
There was a time when all the information gathering in Tokyo made Tokyo the prime choice, but not any more. In order to appreciate what makes this locale special, you have to know all the other regions of Japan. There are no absolutes in art, things only come into focus when you compare. In mathematics, for instance, 1 is absolutely 1, but in art no matter your "absolute red" can easily give way to another redder red. The green you've always cherished might look like nothing fifty years on.
Whether you're in Tokyo or in the provinces or abroad, you have to know Tokyo to appreciate what Tokyo doesn't have that other places do. I'm from Gifu, and in my time the mantra was "What's not in Gifu you can find in Tokyo, what's not in Tokyo you can find abroad in New York, Paris or London." But now when I talk to 20- and 30-somethings from Gifu, they no longer draw contrasts with the big city, but rather place value on their own unique local resources. Times have really changed.
ART PORT ROPPONGI
Daytime city meets night art
At prominent street corners throughout the area – Roppongi Crossing, Tokyo Midtown West, Ryudocho Bijutsukan Avenue, Imoarai-zaka, Roppongi Roi Bldg. – videos, installations, sculptures and performances by young artists bring elements of surprise and rediscovery to the otherwise commonplace cityscape.
Art helps transcend time even in disaster areas
—Do you see any shift in "art/society" or "art/world" relations lately?
While art does of course have its specializations that require particular knowledge to gain better appreciation or technical training to master, I also see a need for "ordinary art in everyday life." I see my role as an artist as one of establishing a place for such art, creating a context in which people will notice it. The disaster claimed people's homes and loved ones in the blink of an eye, driving them to despair with "Nothing to look forward to and no way back." Ordinarily, people go on living by timelines they make within themselves, "Yesterday was like this, so I'll try harder tomorrow." A month after the quake, I did an art workshop together with folks in the disaster area. When, people got their hands busy making things, they started thinking beyond their immediate circumstances. "What color should I paint here?" or "What material should I use for this pattern?" Art helps people with the seemingly obvious act of engaging their imagination and giving it shape. Whether in literature or music, probably all the arts, the beauty of art is that lets you "transcend the moment." Art can even help people traumatized by disaster in their daily lives. We have to create more scenes in which art can function on a daily basis, that might be what drives the next era to come.
Rokuhonmoku Yorakue – Cheers for art and the world!
Looking for somewhere to relax and talk, eat and drink with the artists during this special one-night event? "Crosstalk" sessions featuring artists and professionals of various genre are not to be missed.
I want to reach out through art that communicates with others.
—What's the driving force that keeps you creating art?
Encounters with people, I suppose. I don't have that "I'm the greatest artist, I'll do it my way" in me to pursue my own aesthetic to the exclusion of the world. Only when I've reached someone is my expression achieved. Without others I have no reason to paint. For me, the energy to create comes from contact and communication with people. Art is a strange thing, it's like a thread ties all sorts of things together. For instance, you can be moved by sea diving, you can be moved by playing soccer, things that might seem unrelated at first, but in my own way I sublimate them into artworks that convey a message. It's like I line up different things on a table, but instead of polishing them one by one, I show them all meshed together. There's beauty in everything, in artists, in the sea, in archaeology, in geology, in human relations. I look for common nodes of beauty and thread them together.
—How did you come up with the Hibino Cup in Roppongi?*
Roppongi Junior High School and the Mori Art Museum are right next to each other, but up to now there'd been no connection. The school's not in Roppongi Hills, but art provided the link. Art's the all-purpose tape to bond the school and museum together and say "Here's Roppongi."
* A sports-art workshop in which five-member teams play a soccer mini-match with balls and goals sculpted out of cardboard and wear uniforms made from wornout T-shirts.
Text: Ito-Soken Photo: Morimoto Naoko