Suntory Museum of Art Official Website


"A glittering interlude: Visions of Satsuma-kiriko" Exhibition

Flourishing only a little less than the last 2 decades of the Tokugawa Shogunate, the artistic cut glass known as Satsuma-Kiriko was never produced again after the arrival of the Meiji Era. The story of its fleeting glory from its origins to the final days of production are presented in a captivating exhibition of approximately 160 exquisite works of artisanship!

■Sponsor: Suntory Museum of Art, Nikkei Inc., TV Tokyo Corporation
■Admission: Admission ticket purchase required
*Free admission for Jr. High and younger.
(Click here for admission ticket prices)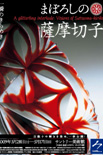 Satsuma-kiriko dish with red overlay, mid 19th century
*Photo is the property of Suntory Museum of Art.

Satsuma-kiriko Slide Lecture

Presented by the exhibition curator, this slide lecture provides insights for appreciation of this exhibition, and explains the elements that make Satsuma-kiriko attractive and many other aspects of this art form.

■Date/Time: March 28 (Saturday) 20:00~20:30
■Place: 6F Hall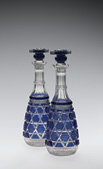 Satsuma-kiriko blue wine decanter with stopper, mid-19th century.
*Courtesy of the Corning Museum of Glass

Ikuko Kawai Special Mini-Live Concert

Prepare to be dazzled by both the diamond-like brilliance of Satsuma-kiriko cut glass and a scintillating performance played on a violin made of glass (produced by the glassware maker Hario).
*Includes complementary special drink

■Date/Time: March 28 (Saturday) 21:30-22:00
■Place: 3F Exhibition Hall, Atrium space
■Performer: Ikuko Kawai (violin)
■Accompaniment: Tomoyuki Asakawa (Harp)

Ikuko Kawai
shop×cafe
Combining the stimulus of a shop and the relaxing ambience of a café, this is an ideal spot to savor the lingering impressions of your encounters with art and perhaps pick up a memento of your visit. The wide variety of goods reflect the shop concept of "Japanese Modernism -Elegance in Life" while the café is under the management of Fumuro-ya, the Kanagawa establishment famed for its Kaga-style wheat gluten cakes since 1865. On March 28 (Saturday), the café will specially extend its hours until 23:00 (last order 22:30) for Roppongi Art Night.

Timetable

Map of Event Venues