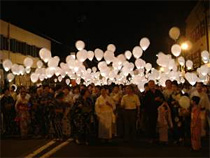 GINGA 2003
Echigo-Tsumari Art Triennial 2003 (Niigata Prefecture)
Jiro Hirano's "GINGA@Roppongi"
A fantastic procession of 1,000 lights flows through the streets, eventually crossing over into the realm of art.
1,000 participants, each with a glowing balloon tethered to their hand, parade through the Roppongi night. The grand finale is a giant exhibition of the art of light on the lawn court of Tokyo Midtown.
■Date/Time: March 28 (Saturday) 19:00 ~ March 29 (Sunday) early morning.
*Parade is planned for March 28 (Saturday) 19:00~21:00
*"Lighting Art" Exhibition at Tokyo Midtown is planned to be held from 20:00.
■Place: The National Art Center, Tokyo →Roppongi Hills→Tokyo Midtown lawn court

Jiro Hirano
Timetable