GALLERY MoMo Projects / Roppongi
Time Extension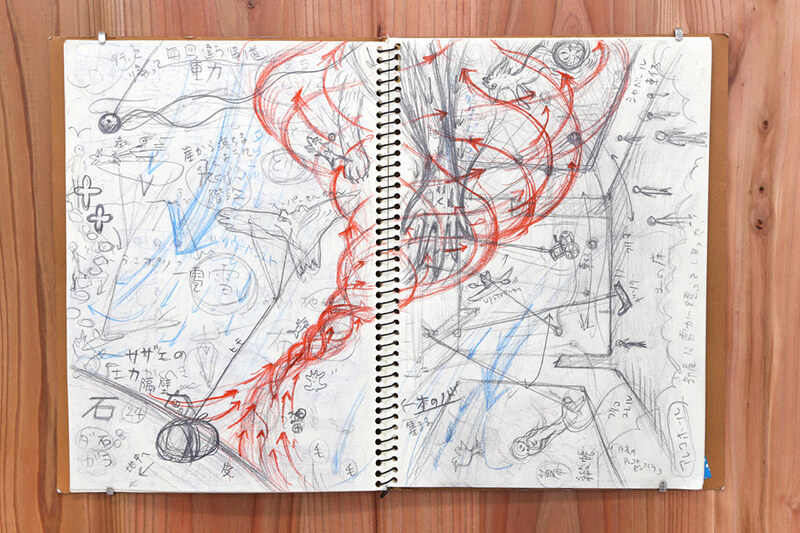 GALLERY MoMo Projects (Roppongi) is pleased to present "Tomoko Konoike's Structure," a solo exhibition by Tomoko Konoike from May 23 (Tue) to June 24 (Sat) during the Roppongi Art Night.
The exhibition will feature a series of works and materials that provide a glimpse into the structure of the exhibitions that Konoike has created while traveling back and forth between the galleries and the works on display at the New National Museum and Midtown during Roppongi Art Night.
The exhibition will also include installation videos of large-scale works, and conceptual sketches for each museum's exhibition. We will make a space named Depth Library for reading the letters between Konoike and Tomotake Kinoshita, who is a deaf historian, and her books and her exhibition catalogs.
As Konoike says, "When the path opens, the material itself conveys through it the form that it wants to be. The structure is like adding a little bone to that form, she searches for the ideal form of the material, abandoning the fixed concept within herself and waiting for the material to tell her something.
Through the words of her conceptual sketches and letters, we can glimpse her unique perspective on the materials and the process of "adding a little bone" to them.
By taking the time to view the exhibition and the process of creating the work in a quiet gallery away from the busy city of Roppongi, we believe that visitors will experience in a different way what Konoike has attempted in her exhibitions in Takamatsu and Shizuoka. The exhibition will also serve as a relay point for Konoike's next attempt at the Aomori Museum of Art, so please come and see the exhibition.
* For the latest information on opening hours, etc., please visit the website of each gallery/facility.
[Open]

5/27 12:00 - 22:00
5/28 12:00 - 17:00
[Address]

San Bldg. No.3 2F, 6-2-6 Roppongi, Minato-ku, Tokyo
[Phone]

03-3405-4339