What is Roppongi Art Night?
A night of dreams in the town the doesn't sleep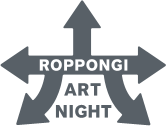 For one night only Roppongi comes alive with art and creativity

The hugely successful "Roppongi Art Night" is back again this year.
Artworks will be cropping up throughout the town, transforming it into a living, open-air museum. In particular, during the "core time" from sunset (5:58 pm) on Saturday, March 27, 2010, till sunrise (5:34am) on Sunday, there will be a wide range of special events taking place.
You're invited to come and experience Roppongi like it has never been before!
What is the Tokyo Culture Creation Project?

The Tokyo Culture Creation Project is a project executed by the Tokyo Metropolitan Government and the Tokyo Metropolitan Foundation for History and Culture, in collaboration with various arts and cultural organizations and art NPOs. The Project aims to create Tokyo's unique art and culture, and nurture children through the arts.
The project includes events and festivals such as theater, music, traditional performing arts and fine arts, art programs realized through active collaboration between citizens of Tokyo and artists, human resources development projects that link the city with art, and experiential programs for children.
Tokyo is a city where Japanese traditional arts renowned around the world such as Ukiyoe, Japanese wood block prints, and Kabuki drama have been preserved, nurtured and can still be enjoyed firsthand today. In recent years, Tokyo is not only a base for the arts of a wide range of artists, but also creating all kind of forms of pop culture, typified by Japanese animation which has been spread throughout the world.
By promoting the creative activities and their achievements originated by artists with the citizens of Tokyo, the Tokyo Culture Creation Project aims to present image of Tokyo as "a city for the creation of art and culture" not only in Japan, but across the globe strongly.
We hope you will join us, the Tokyo Culture Creation Project, to participate in the experience and creation of Tokyo culture.
Official Site: http://www.bh-project.jp/