Experience the talent and energy of the most exciting artists and creators at Tokyo Midtown!
»Tokyo Midtown Official Website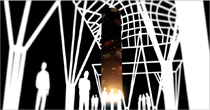 ROOFSCAPE(Image)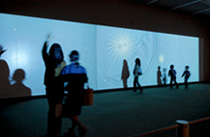 WOW
Light Rain
2007
The Miyagi Museum of Art
ROOFSCAPE

A dream-like world of video art will appear in Canopy Square – the entrance to Tokyo Midtown.
Come and experience a new kind of video expression by the internationally acclaimed visual design studio "WOW."

■Dates : 17:58, Saturday, March 27 till 5:34 a.m., Sunday March 28 (From sunset until sunrise the following day)
■Venue : Plaza 1F Canopy Square, Tokyo Midtown
■Admission : free
Direction by : WOW

WOW is a visual design studio based in Tokyo, Sendai and Florence. It is involved in a wide range of design work, from advertising and commercial works to installations for exhibition spaces and collaborative projects with manufacturers to develop new user interface designs.
Recently it has become passionate about creating original artworks and holding exhibitions not only in Japan but also internationally.
WOW tries to capitalize on the sensibilities of each of its designers to realize the new potential of video and make visual design functional within society.
»http://www.w0w.co.jp/
Mid-Space

Give expression to the future of Tokyo
ART SHOW CASE Mid Space, late-night on March 27

Artists and creators from around Japan and the world will gather in the Tokyo Midtown event space, "Atrium."
Come and enjoy a performance that mixes a wide range of creative activities, in particular music and video. Tokyo has reason to be proud of its next generation of creators. We urge you to witness their talent and energy for yourself.
[Interior design] Recycled woods thinned from forests are adopted for the stage. You can enjoy all performances in the eco-friendly atmosphere with invigorating scent of the woods. All woods are recyclable therefore it leads to a reduction of waste to a large extent. This gives us insights how the events in the 21st century should be in terms of environment.

■Dates : 17:58, Saturday, March 27 till 5:34, Sunday, March 28 (From sunset until sunrise the following day)
■Venue : B1F Atrium, Tokyo Midtown
* Entrance restrictions will apply if the venue reaches full capacity.
■Admission : free
■Organizer : Tokyo Midtown
<Time Table>
*25 to 45 minutes for each performance(Subject to change)
■Classic Act in Mid-Space
"Classic Act" is a series of free concerts held in Midtown each month with the aim of making classical music more accessible. During "Roppongi Art Night 2010," under the banner of "Classic Act in Mid-Space," a series of unusual performers will appear, including a 25-string koto (Japanese stringed instrument) player and two twin brothers who give four-handed piano performances. These original performances convey the attraction of classical music.
| | |
| --- | --- |
| 17:58 | Karin |
| 19:00 | Jumelles |
| 20:00 | Karin |
| 21:00 | Jumelles |
■Mid-Space
22:00
joseph nothing + Kaz
(Live Performance & Live Painting)
22:40
Taromix (DJ)
23:20
studio5 (Live Performance)
23:50
Taromix (DJ)
00:30
Open Reel Ensemble (Live Performance)
01:15
Taromix (DJ)
01:40
joseph nothing + TAKANO aya
(Live Performance & Visual Performance)
02:25
Taromix (DJ)
02:50
Daito Manabe + Taeji Sawai (Live Performance)
03:10
ackky (DJ)
03:35
Merce Death (Live Performance)
04:15~05:34
ackky (DJ)
Profile of performers
*in order of appearance
Classic Act in Mid-Space

Karin
Karin started to play the Japanese 25-string koto at 12 years of age, and made her debut as a professional performer with an original score when she was 14 years old. Karin studied the classic 13-string harp using the Ikuta method at Tokyo University of the Arts. After graduation, she started to sing to her own playing on the 25-string koto and also collaborated with many artists from various genres. With her unique koto she is able to play versatile scales very different from Japanese classical harmonies, and she can create both bright sounds to dance to and also relaxing night-time melodies.

Jumelles
Chihiro and Michiru are twin brothers who play the piano. "Jumelles" means twins in French. Their basic style is to play together on one piano. They have performed widely, occasionally adding extra keyboard instruments in order to convey the beauty of classical music and four-handed performances.
Mid-Space

joseph nothing
In February 2001, the artist released the album "Dummy Variation" and 7 inch "Just One Fix" under the name of Joseph NOTHING from the μ-ziq label, Planet-μ. It was highly praised by the major British magazines NME, WIRE, and so on. In July 2002, NOTHING released his second album, "Dreamland Idle Orchestra," and, in July 2003, he released his third album, "Deadland after Dreamland." After a short hiatus, he recommenced his musical activities after meeting contemporary artist TAKANO Aya and drummer YOSHIKAWA Dan.

Kaz
Artist and illustrator. In 2005 Kaz started his career as an artist. He is now active domestically and overseas. He held his first solo exhibition overseas at Compound Gallery, Portland (USA) in 2008. His work now consists mostly of live-painting and wall-painting performances. He is involved in an ongoing quest to pursue his own style of drawing and the full potential of creative expression.

Studio 5
Sound performance group. "Pricks: four connect walls" is a work where they make music using 126 electrical sockets – kind of like patching a synthesizer.
Open Reel Ensemble
Music group active since 2009. Open Reel Ensemble uses old reel-to-reel tape recorders as instruments. They record voice and sounds impromptu using reel-to-reel and control the reel's speed and movement with a computer or directly with their hands. WADA Ei leads four other musicians: SATO Kimitoshi, YOSHIDA Haruka, NAMBA Takumi, YOSHIDA Masaru (bass).

photo Kurage Kikuchi
TAKANO Aya
As an Artist, Takano has held exhibitions in several cities around the world including Tokyo, London, Paris, and Los Angeles. In 2009, she had a solo exhibition titled "Reintegrating Worlds" at the Skarstedt Gallery, New York and published a comic book titled "Cosmic Juice".
In 2010, she did the artwork for Joseph Nothing's music album"Shambhala Number Two & Three" She has also made several appearances in his live performances as a VJ.
She is now expecting solo shows at the Hong Kong International Art Fair and the Museum Frieder Burda in Germany scheduled respectively in May and September.

SAWAI Taeji
Sound artist. Interested in the effect of sound in various environments. Holds performances and creates installations at various events and museums both in Japan and abroad, including at events such as Fuji Rock Festival and Sonar. SAWI produced Aco's album "irony." Other activities include giving lectures, writing, sound design and other sound projects.
MANABE Daito
The underlying principles of MANABE's works are strong programming, good research and a flexible stance. He has participated in all manner of various projects in Japan and abroad. MANABE performed a work on which he collaborated with Zachary LIEBERMAN's YesYesNo at the Ars Electronica Center Opening event in January 2009. His experimental movie, in which he used his face as a music visualizer, received one million views in less than one month on YouTube after it was picked up by geeky blogs.

Merce Death
Merce Death is the solo band of a man who also works as an interactive art director for Wieden+Kennedy Tokyo. His style is to create impromptu music using a guitar and loop sampler. He has held a world tour from his own house called "World Tour from My Room" and he has used a tesla coil guitar to create lightning bolts. He likes to amuse himself by mixing music and technology.
Profile of DJs
*in order of appearance

Taromix
DJ/ Music Producer. Started his career in NY, playing at party for Tommy Hilfiger, Chaumet, Carrera y Carrera. Playing and making music in varierty of sounds from all over the world, past and future. Enjoy your voyage with what so called "Taromix".

ackky
He dicided to take part in the music world in the early 90s inspired by various DJs and musicians in tokyo. After involved in several bands and thier live perfirmances,he is currently a DJ for many parties including BANK!, R.O.T.F, Quiet sundance,Life force and many underground party. He gradually began to produce his own tracks, and one of them was selected for the "TURBO SONIC" compilation. It seem like this album is selling very well. Graphic design, photograph, and illustration are produced besides music. It positively participates in the exhibition etc.The artwork has been submitted to magazine remix since 2006.
Profile of visual designer

BEN LIST
Raised in San Diego California, Ben came to Tokyo after graduating from the University of Southern California. After several years as a freelance art director and video director, Ben established the animation and motion graphics company "Chroma*Fresh" in 2000 and the VJ/art unit "DaDaKingZ" in 2005. Personal and group activities include numerous commercials, on-air promotions, music videos, fashion events, concerts and performances all over Japan and numerous cities across the planet.
To commemorate Tokyo Midtown's Third Anniversary: a giant objet d'art!

This spring Tokyo Midtown celebrates its third anniversary. To mark the occasion, a giant art object, "Smile Cake, Happy Cake" will be installed in the Plaza zone. A part of Midtown's spring event program, "Midtown Blossom 2010," the object will be on display from Saturday, March 20 until Sunday, April 4. See the Midtown website for more details.
»http://www.tokyo-midtown.com
Galleries within Tokyo Midtown participating in Roppongi Art Night 2010
●21_21 DESIGN SIGHT: Open till 5:00, Sunday, March 28
●Tokyo Midtown Design Hub: Open till 22:00, Saturday, March 27
●d-labo: Open till 18:00 on Saturday, 27th and Sunday, 28th
●FUJIFILM SQUARE: Open till 19:00 on Saturday, 27th and Sunday, 28th
Light Flight in Midtown Garden

Image
■Dates : 17:58, Saturday, March 27 till 5:34, Sunday, March 28
■Venue : Midtown Garden, Tokyo Midtown
TOKYO FM Midtown Studio produce
SOUNDS meets ART @ "Roppongi Art Night"

■Dates : 23:00, Saturday, March 27 till 5:00, Sunday, March 28
■Venue : Plaza 1F TFM Studio, Tokyo Midtown
Extended opening hours for shops, cafes and restaurants
※Extended opening hours on Saturday, March 27, for shops, cafes and restaurants
※Bring the Roppongi Art Night 2010 Guide book and get some priviledges! (at limited shops only)
Open till
Zone
Floor
Shop
Category
21:00
Saturday, March 27
Galleria
3F
STYLE MEETS PEOPLE
Livingwares
Galleria
2F
AFRICA DIAMONDS
Diamond jewelies
Galleria
2F
WACOAL DIA
Ladies' wear
Galleria
B1F
KYONOTOFUYA FUJINO
(FOOD L.O.20:00/DRINK L.O.20:30)
Tofu
Galleria
B1F
KYO HAYASHIYA
(FOOD L.O.20:00/DRINK L.O.20:30)
Japanese sweets & tea
Galleria
B1F
JEAN-PAUL HEVIN
(FOOD L.O.19:00/DRINK L.O.20:30)
Chocolate
Galleria
B1F
Chowder's Select Soup!
Soups
Galleria
B1F
DEAN & DELUCA
Glossary & Wine
Galleria
B1F
Manhattan Deli
(L.O.20:30)
Deli
Galleria
B1F
MIYATAKESANUKISEIMENJO
(L.O.20:45)
Sanuki-udon noodles
22:00
Saturday, March 27
Plaza
1F
The Ritz-Carlton Café & Deli
(till 19:00 for eat-in)
Café&Deli
Plaza
B1F
Okawari.jp
(L.O.21:00)
Food court
Galleria
3F
shop×cafe Suntory Museum of Art
Museum shop/cafe
Galleria
1F
ASANOYA
Bakery
23:00
Saturday, March 27
Plaza
B1F
Tokyo Midtown Imaiyasaryou
(FOOD L.O.22:00/DRINK L.O.22:30)
Japanese cuisine
Plaza
B1F
KOOTS GREEN TEA
(L.O.20:00)
Cafe
Plaza
B1F
SENRIBA NANG SHANG SHO RONG
(L.O.22:30)
Chinese cuisine
Plaza
B1F
DEAN & DELUCA CAFE
Cafe
Plaza
B1F
DELHI
(L.O.22:00)
Indian curry
Plaza
B1F
MADISON PARK CAFE
(FOOD L.O.22:00/DRINK L.O.22:30)
Hotdogs
Plaza
B1F
yao_ESTAbLISH
(FOOD L.O.22:00/DRINK L.O.22:30)
Gastropub
Garden Terrace
3F
Hirata Bokujo Takumi
(L.O.22:00)
Japanese cuisine
24:00
Saturday, March 27
Garden Terrace
3F
tanetsu
(L.O.22:00)
Japanese sushi
Garden Terrace
3F
TEPPANYAKI STEAK KISENTEI
(L.O.22:00)
TEPPANYAKI
Garden Terrace
2F
TENAMU
Korean cuisine
Garden Terrace
2F
VINOTECA
(FOOD L.O.22:30/DRINK L.O.23:00)
Italian cuisine
Garden Terrace
1F
La Colina
(FOOD L.O.22:30/DRINK L.O.23:00)
Mexican cuisine
5:00
Sunday, March 28
Plaza
1F
orangé
Champagne bistro
Plaza
1F
STARBUCKS COFFEE TOKYO MIDTOWN COMPLEX STUDIO
Cafe
Plaza
1F
Ba-tsu
(L.O.4:00)
Spanish Bar
Map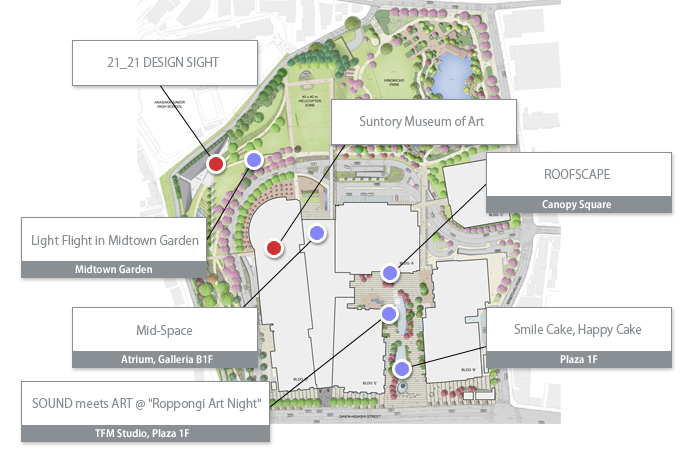 * The completed work may differ in appearance from the photo.