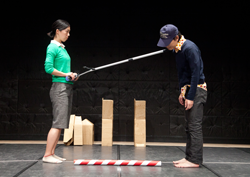 Kamimura Megumi
Photo: Matsuo Ujin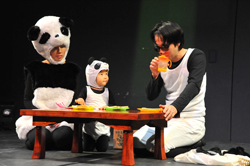 Pandance (2011)
Photo: Someido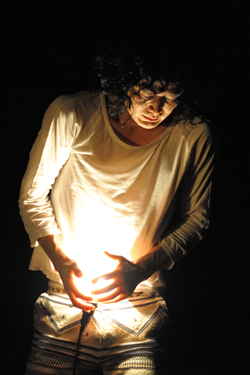 Suzuki Yukio Volatile Body (2012)
Photo: Matsumoto Kazuyuki
Parkformances
Art Night's special one-night-only outdoor stage
for performances spotlit by the moon!
Kamimura Megumi Company: Parts of Air
Look at incidents the way you would strain your ears to hear them. Incidents consist of intentions, sounds, and textures. Your eyes are merely portals of reception, not the point at which to measure. Incidents accepted form weights to anchor your eyes, ears and skin to that place. It is the air that measures incidents, not the I.
Choreography: Kamimura Megumi
Performers: Usui Ayako, Shirai Aisa, Tochiaki Taiyo, Kamimura Megumi
Bokudes (performance title to be decided)
Suzuki Yukio Waltz
Kamimura Megumi
Dancer and choreographer. Starting performance from 2004, she has experienced many stages both in Japan and abroad. Established Kamimura Megumi Company in September, 2006.
BOKUDESU
A solo performance unit by Masahiro Kohama. Has performed with U-enchi Saisei Jigyodan, Philippe Decouflé, Nibroll and Strange Kinoko Dance Co.
Suzuki Yukio
He began training in butoh in Asbestos House in 1997, and has been leading KINGYO, a contemporary dance company from 2000. His earnest dance tossed and almost torn and the overwhelming beauty of the space are getting attention in inside and outside country.
Sa 21:00 and 23:00
Minato City Mikawadai Park, 4-2-27 Roppong
Freei