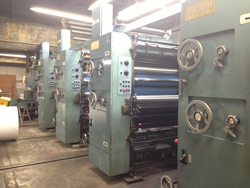 Imoarai-zaka Newspaper
The Suisan Keizai Daily News, established on Imoarai-zaka, Roppongi in 1948, publishes a special edition about local people participating in Art Night. The Suisan "Fisheries" name is a perfect match for the lighthouse and boat symbols of this year's Art Night. Dedicated to the motto "Trip → Witness today's transformation into tomorrow", student editors and reporters will run around Roppongi "fishing" for stories, with support from the Roppongi shopping district and Suisan Keizai Daily News staff.
Support: DAY AFTER TOMORROW NEWSPAPER CULTURAL DEPARTMENT
Special edition published Sa night
*Circulation limited.

Distribution:
Roppongi Art Night staff at the Art Night
Administration Office near Roppongi Crossing,
Roppongi Hills Hills Café/Space, Tokyo Midtown CanopySquare, etc.