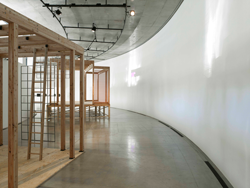 Obscure Architecture (2008-2012)
Aomori Contemporary Art Center
Photo: Yamamoto Tadasu
Art Port Roppongi
assistant
who are you – you are who tasokare – kawatare
Morocco "Land of the Setting Sun," or Al-Maghrib in Arabic, has a star in a flaming sunset on the national flag. There is a nine-hour time difference between Japan and Morocco. The sun rises in Tokyo within two hours after sunset in Morocco. When we view sunrise in Tokyo, our eyes cross paths with people's eyes in Morocco watching the sun set. This project lets us view sunrise in the Land of the Rising Sun in tandem with a real time projection of sunset in the Land of the Setting Sun.
assistant
An architecture studio established in 2002 by Megumi Matsubara and Hiroi Ariyama. Pushes the boundary of architecture by recognizing space as the sum of experiences and memories and combining physical experience and poetic expression.
Sat 17:55–5:39 *Moroccan sunset, Su 3:44
AXIS Bldg., 5-17-1 Roppongi
Free
[Morocco sunset occupying large visions in Roppongi]
We'll wait for a sunrise in Roppongi, seeing a sun goes down in Morocco. Visuals of a stunning sunset in Morocco will be shown on three large visions at the following location sequentially.
0:50- Roppongi Cross-point (Roppongi Seishido Vision)
3:00- Tokyo Midtown Canpy Square
5:00- Roppongi Hills 66 Plaza