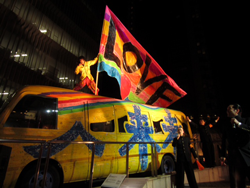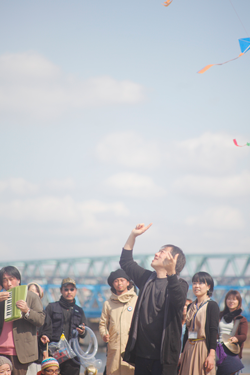 Art Fune Project
Endo Ichiro x Otomo Yoshihide Senju Flying Orchestra
Endo Ichiro: Mirai-e Maru "SS Go for Future"
Artist-of-the-future Endo Ichiro's Future Dragon Kite project asks us to write our wishes and dreams on kite chains to be flown up to the heavens. This time the idea is to cover the hull of the ship with kites like dragon scales, as well as all around the grass square where they can catch the wind. Go to the workshop tent at the entrance to the lawn to write your dreams on a kite. Meanwhile, another performance sure to make
us look up, north Tokyo-based Senju Flying Orchestra centered on musician Otomo Yoshihide plans to play a "concert of sounds falling from the sky" over Roppongi using their own secret technique.
*Workshop ends when the kites run out.
Endo Ichiro
Born in 1979. A future artist who keeps sending a message "GO FOR FUTURE," driving his bus named "GO FOR FUTURE" all over the country.
Otomo Yoshihide
Born in 1959. A guitar player and a turn table player, a composer. Acclaimed worldwide with a wide range of his musical activities from ones featuring improvisation or vocal to exhibitions using sound effects.
Senju Flying Orchestra
A project unit, consist of Otomo Yoshihide and "Team・Ensembles" selected by audition, aims to give "The Concert, where sounds fall from a lot of kites in the sky like an orchestra".
Sa 17:55–Su 18:00
Performance: Sa 20:30–21:00
Tokyo Midtown Grass Square
Free