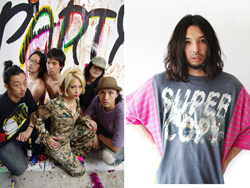 (Left)Chim↑Pom
Photo: Matsukage Hiroyuki
(Right)Video artist/contemporary artist
Mishima Akiyoshi
Mid-Space: THE TRIPPING ARROW
A huge arrow, produced by Chim↑Pom × BABOT,
appears on the atrium, an event space in Tokyo Midtown.
Within the space produced by Mishima Akiyoshi, the huge arrow will transform – like a balloon about to make a journey, the hand of a timepiece to mark the passage of time, or the needle of a compass indicating the direction of the trip. What will take place in this mysterious space are live performances with cutting-edge music and contemporary dance by performers who fire-up our imagination of a scene we have never seen. A one-night special collaboration space, where music, light, dance and art intertwine, will take you on a TRIP to anywhere but here.
Produced by THE FOREST
[Participating Artists]
■ Miyake Yohei Sa 21:30, Su 4:30
Unconstrained vocals, woven lyrics, soulful guitar thrums, brilliantly colored rhythm: can all this be produced by one person? An unparalleled messenger, and the sole performer to take us on a "soul trip".

■ INO hidefumi Sa 22:40
Fender Rhodes player Ino Hidefumi personifies the sensational relationship between electronic device and the human body. Superb melodies, warm tones, and a mellow mood set the stage for an "intoxicating journey" through overlapping sounds.

■ Koga Takeshi from Condors × Shika Udai Sa 23:50
Kogandance (ie, modern dance performed by Mr. Koga), currently a feature the contemporary dance company Condors, presents a special version of "The Middle-aged Man Who Leapt Through Time", in which the dramatic echo of the cello leads you on an unpredictable "trip of self-liberation".

■ Sebu Hiroko Su 0:40
Pieces by Sebu Hiroko, a composer and pianist who creates "Architectural Music", sometimes hard and strong, sometimes lonely, always stunningly beautiful, like nature's many facets. A "Technicolor journey" that turns everyday life into the things of movies.

■ ARAKAJIME KIMERARETA KOIBITOTACHI E (For Pre-Determined Lovers) x contact Gonzo Su 2:00
A lyrical, roaring dub-band currently enjoying the limelight. Their sessions, like reaching the end, have elation, feelings of bliss, nostalgia, and sometimes evoke strong feelings of tension and relief. The simple, but hard-hitting body movements of contact Gonzo take you on "a trip to a land of no return".

■ Project OH!YAMA Su 3:10
A dance unit of 5-10 women "around 30" dressed in costumes like inhabitants of a different world or strange living creatures in a fairy tale. The door to an adult fantasy world, a "sleepwalkers' jaunt" in Roppongi.
Photo: HARU
Sa 21:30–5:30
Tokyo Midtown Atrium
Free