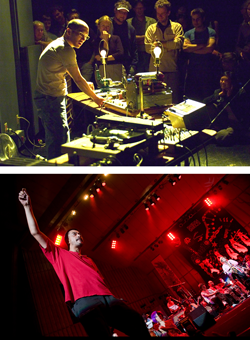 Art Fune Project
Ujino Muneteru × Shibusashirazu Orchestra
Muneteru Ujino Light Up the Future Maru
Ujino Muneteru has created sound sculptures from assemblages of used home appliances all around the globe. Here he installs countless house lamps to his Art Fune, which lights up and sets sail at 19:20 with performances by "The Rotators" featuring Ujino appearing together for the first time with the spectacular jazz musicians and dancers of the Shibusashirazu Orchestra, filling the vast Roppongi Hills Arena with vibrant 21th century energy.
Ujino Muneteru
Born in 1964, Tokyo. Start producing sound sculptures from the 1990′s. His solo exhibition "POP/LIFE" is now being held at the Hakone Open-Air Museum.
Shibusashirazu Orchestra
A large-scale jazz band formed in 1989. Led by Fuwa Daisuke, the band comprises many members including not only musicians but dancers and choreographers.
Sa 17:55–Su 18:00
Roppongi Hills Arena
Free