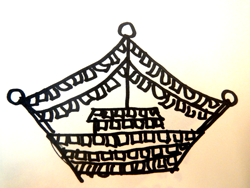 Art Fune Project
Jampel Cheda + Hibino Katsuhiko
Kyo kara Ashita Maru "SS Today to Tomorrow"
Five-color flags produced by Bhutanese artist Jampel Cheda from the NGO Voluntary Artists' Studio Thimphu (VAST) installed on Hibino's Art Fune reflect the Bhutanese custom of flying prayer flags.
May the Roppongi breeze that drives the ship convey ourhopes from today to tomorrow!
Support of production: Sky Art Festival (Wakabadai, Yokohama)
Jampel Cheda
An artist and freelance photographer born in Thimphu, Kingdom of Bhutan. He came to Japan as an invited artist for "ART FESTIVAL OF THE SKY" 2011. During his stay in Japan, he produced a flag with hope with five colors of Bhutan.
Hibino Katsuhiko
Born in 1958, Gifu. He has organized a lot of work shop which utilizes participants and the regional characteristics. Joined Roppongi Art Night in 2009, 2012. A professor at Tokyo University of the Arts. A member of the executive committee of the Japan Football Association Specialty.
Sa 17:55-Su 18:00
Roppongi-Street
(in front of Roppongi Hills North Tower)
Free