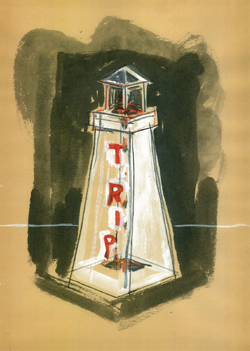 Trip→Project
The monumental "Lighthouse" created by
Hibino Katsuhiko in the Roppongi Hills Arena stands as a beacon for Art Night 2013's "Trip → Witness today's transformation into tomorrow."
Occasional sparks from the fire on top sputter down inside the glass-walled lighthouse, symbolizing the awesome destructive power of the earth. Fuel for the fire is charcoal made from cryptomeria trees killed by tsunami saltwater in the 2011 Tohoku Earthquake, gathered and kilned in Rikuzentakata, Iwate. Burning evening-till-dawn throughout Roppongi Art Night 2013, the beacon illuminates the passing hours, warming hearts and stirring souls.
Support: Rikuzentakata City, Kanno Kichiro, Kanno Fusao
Sa 10:00–Su 18:00
Roppongi Hills Arena
Free