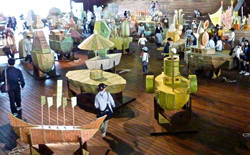 FUNEPro Roppongi Dockyard
To build a ship is to think of somewhere else.
Where does this ship come from? Where will it go? What is its cargo? Members of Yokohama Fune Project, who made 150 cardboard ships under the supervision of Hibino Katsuhiko, reunite to create a "dockyard" in Roppongi to make more cardboard ships. Open to all.
Support: Rengo Co., Ltd.
Workshop: Mo (3/18)–Su (3/24) 12:00–21:00
Sa 16:00-21:00, Su 12:00–18:00
On view: Sa 10:00– Su 18:00 (TBD)
Roppongi HIlls West Walk South
Free