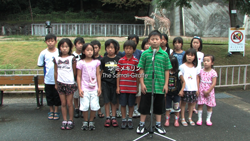 A week of the Animals,2010-ongoing project (2010)
Yamamoto Takayuki
:A Week of the Animals / Telling Your Future / Finding the way to live with Namahages
A late-night shopping mall echoes with the voices of unseen children… in a video installation by Yamamoto Takayuki, who creates his works through workshops with children. His open workshop will be presented at the West Walk South Atrium.
Yamamoto Takayuki
Born in 1974, Aichi, Japan. After studying in London, he became a elementary school teacher. And now he organizes a workshop for children. At the same time, he has also produced lots of installation based on the experience of his carrier.
Sa 10:00–Su18:00
Roppongi Hills West Walk 2F and elsewhere
*This workshop is fully booked.