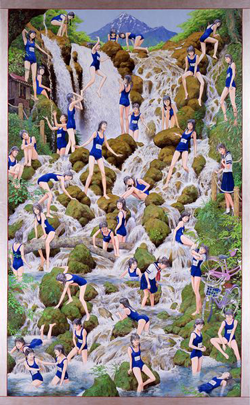 Aida Makoto, Picture of Waterfall 2007-10
Acrylic on canvas, 439×272cm
Collection: The National Museum of Art, Osaka
Courtesy: Mizuma Art Gallery
"Aida Makoto: Monument For Nothing"
Aida's major solo exhibition captures the taboos and raw complexity of Japanese society in depictions of pretty girls, wars and salarymen. The exhibition presents around 100 of Aida's works, including eight new offerings, ranging from representative works from the start of his career to works never before been exhibited in Japan, in a show designed to illuminate every aspect of a practice that has hitherto only been presented fragmentarily.
Open till 6 Sunday morning
Regular adult admission of ¥1,500 discounted to ¥1,000, Sa 24:00 to 6:00.
Through 3/31 (Su)
10:00–22:00 (17:00 Tuesdays)
*Last entry 30 minutes before closing.
MORI ART MUSEUM
Adults ¥1,500,
Students (high school/university)
¥1,000, Children (4 years–junior high) ¥500