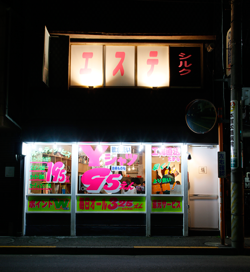 Supposed Beat (2010)
Art Port Roppongi
Shibata Yusuke
Laundry Disco
A respected dry cleaning establishment turns into a one-night disco with sexy dancers! An on-going after-hours disco for no one in particular that subverts everyday dry cleaning equipment into devices of seduction, while the combination of Roppongiesque
night clubbing with a nostalgic storefront creates a delectable chaos of uncontrollable machine rhythms.
Shibata Yusuke
Born in Fukuoka, 1980. Graduated from the Master of Arts (Fine Arts Program, Sculpture Course ) at Musashino Art University. He's been producing installations using pictures, films, objects with three dimensions.
Sa 17:55-5:39
Sun Laundry, 7-6-20 Roppongi
Free