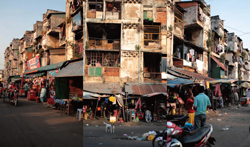 The white building washing (2012)
3 channel synchronized video
with sound, 11'30″
Support: Sa Sa Art Project,
Tokyo Wonder Site
Art Port Roppongi
Iwai Masaru
The white building washing
Early in 2012, Iwai Masaru stayed in the derelict "White Building" in Phnom Penh, Cambodia while shooting a documentary about cleaning the building together with local residents. Projected here on three large screens, The white building washing
astounds the viewer with its stark realism and ineffable videographic beauty even as it sheds light on various social issues.
Iwai Masaru
Born in 1975, Kyoto. Graduated from the doctorial course of Graduate School of Fine Arts, Tokyo Art University. Brings cleaning and wastes into his artwork under the theme of "Cleaner's High".
Sa 17:55– 5:39
Roppongi 7 chome vacant lot, 7-7-16 Roppongi
Free