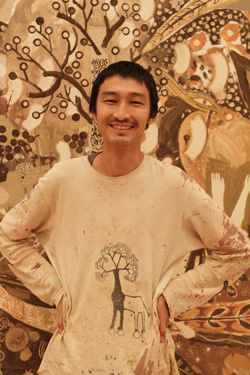 Photo:Tezuka Aiko
Art Fune Project
Asai Yusuke
Konsei Keifu Maru "SS Mixed Lineage"
Artist Asai Yusuke, who makes pictures in situ out of found materials, wraps his entire Art Fune in masking tape like a canvas to depict a "moving landscape".
Support: KAMOI KAKOSHI CO., LTD.
Asai Yusuke
Born in 1981. An artist who creats paintings freely on any kind of canvas with various materials familiar to everybody, such as a large wall painting drawn with clay or paint used for white line on a road.
Sa 17:55–Su 18:00
The National Art Center, Tokyo, entrance area
Free