What is Roppongi Art Night?
~ Art: Giving "Genki" Back to Japan! ~ ROPPONGI ART NIGHT 2012
All over Roppongi, you'll encounter the genius of Yayoi Kusama! There's even a Kusama-themed café for a taste of her wonderful world!
Date: 10:00,March 24(sat.) - 18:00,March 25(sun.)2012
Core Time: 17:56 sunset - 5:38 sunrise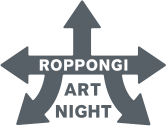 "Roppongi Art Night 2012" is an all-night art festival and is held as one facet of the Tokyo Culture Creation Project led by Tokyo Metropolitan Government and Tokyo Metropolitan Foundation for History and Culture. This year it will be held from 10:00 am on March 24 (SAT) until 18:00 pm March 25 (SUN), 2012.

With the entire town of Roppongi as its stage, Roppongi Art Night is an all-night art festival for one night only, transforming the area with art of every form from fascinating installations to music, films and live performances. For visitors, it offers an extraordinary opportunity to experience Roppongi as never before.

This year marks the third Roppongi Art Night since the inaugural event in 2009. For 2012, the uplifting theme of "creating art and giving genki back to Japan" has inspired the exhibition of exciting artworks from participating artists in Japan and from abroad. Visitors can look forward to art that uplifts spirits and energizes, and many works that send a very powerful message.

Several special area-wide programs are planned including "Love forever, The Future is Mine" by avant-garde artist Yayoi Kusama, the festival-motif "Legend of Roppongi 2012" by Antenna - the up-and coming Kyoto-based artist duo, and "Roppongi Agora" – a project to support the recovery of areas devastated by the 2011 Great East Japan earthquake and tsunami co-planned by Sendai Mediatheque, Tohoku University of Art& Design and Tokyo Wonder Site.

In addition to the unveiling of a 10-meter tall "Yayoi-Chan" and "Ring-Ring" constructed out of balloons, the festival features the "Mizutama Café" (Polka Dot Café) decorated in Yayoi Kusama's iconic polka-dot motif and the exhibition of many works from her long career all over Roppongi, transforming the town into the wonderful world of Kusama.

The art duo Antenna boldly adopts the unique "Jappy" character as the motif of their interpretation of traditional Japanese matsuri (festival) culture, complete wth a portable shrine parade and an impressive main shrine.

"Roppongi Agora" will display a number of works that seek to create a bridge between the disaster-stricken area and Roppongi. The program will be a cathartic experience featuring an illuminated "yobune" (night boat) that conveys the profound emotions surrounding the tragedy. Through the night, a diversity of art expression will help all deal with the aftermath of the earthquake and tsunami, and help Japan move forward.


What is the Tokyo Culture Creation Project?

The Tokyo Culture Creation Project is a project executed by the Tokyo Metropolitan Government and the Tokyo Metropolitan Foundation for History and Culture, in collaboration with various arts and cultural organizations and art NPOs. The Project aims to create Tokyo's unique art and culture, and nurture children through the arts.
The project includes events and festivals such as theater, music, traditional performing arts and fine arts, art programs realized through active collaboration between citizens of Tokyo and artists, human resources development projects that link the city with art, and experiential programs for children.
Tokyo is a city where Japanese traditional arts renowned around the world such as Ukiyoe, Japanese wood block prints, and Kabuki drama have been preserved, nurtured and can still be enjoyed firsthand today. In recent years, Tokyo is not only a base for the arts of a wide range of artists, but also creating all kind of forms of pop culture, typified by Japanese animation which has been spread throughout the world.
By promoting the creative activities and their achievements originated by artists with the citizens of Tokyo, the Tokyo Culture Creation Project aims to present image of Tokyo as "a city for the creation of art and culture" not only in Japan, but across the globe strongly.
We hope you will join us, the Tokyo Culture Creation Project, to participate in the experience and creation of Tokyo culture.


Official Site:http://www.bh-project.jp/
mobile site:http://www.bh-project.jp/mobile/