Hideharu Fukasaku Gallery Roppongi
スペシャルイベント実施回廊時間延長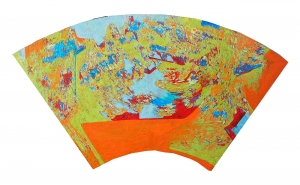 This painting represents the scenes of "where I have been" with different shapes and colors.

The technique I have used, in order to pass along the scenery that I felt in the past to my current self, is to dig out the different colors that have been layered and add more layers to it. This can show the depth of the colors and the fascination of the sense of space.
With this method, the astonishing scenes keep shining from the past to the present, from the present to the future.

Please enjoy and experience these scenes represented with different shaped canvases such as the Japanese form (Fan-like shape).
[Open]

10/21,22 11:00 - 22:00
[Address]

Fukasaku eye institute Bld.1F, 7-8-9 Roppongi, Minato-ku
[Phone]

03-5786-1505
[URL]